This page was based on a page from the VS Battles Wiki or they made the original page. All credit goes to them.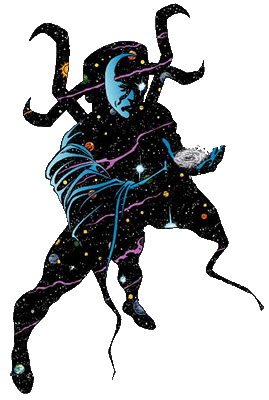 Summary
This term means that a certain character is an immaterial embodiment of a fundamental abstract concept, and is able to regenerate as long as the concept itself continues to exist.
It should be noted that simply being representative of a concept does not qualify a character for this ability, as it only applies to the ones that fulfil the above requirements.
Possible Uses
Types
Type 1: Exists purely as an abstraction. These characters lack a true physical form, and affecting them requires the ability to affect directly the abstraction itself, because eventual physical manifestations are merely avatars.
Examples: Apocalymon (Digimon), Madoka Kaname and Homura Akemi (Puella Magi Madoka Magica)
Type 2: Embodies an abstraction, and can be resurrected or regenerate indefinitely thanks to it. Destroying the abstraction is required to permanently kill those characters, but they can still be affected without directly altering it.
Examples: The Seven Great Demon Lords (Digimon), many Demons from Shin Megami Tensei
Type 3: Embodies an abstraction, but the destruction of the former isn't needed in order to destroy or affect them. These characters do not rely on the abstraction to survive, but thanks to their affinity with it, they are able to manipulate it.
Examples: Absolute Law and Unstoppable Force (The Spirit of Eternity Sword), and Witches (Puella Magi Madoka Magica)
It is important to note that in the case of conceptual embodiments, the type of Abstract Existence should be specified alongside the type of concept.
Limitations
Due to a particular concept forming an abstract entity's entire being, foes who are able to override their command over, and erase it, can destroy them permanently.
Abstract entities recurrently strictly embody a concept up to a certain level of reality. For example, Eternity only embodies time on a local, universal scale. If the universe is destroyed, so is he.