This page was based on a page from the VS Battles Wiki or they made the original page. All credit goes to them.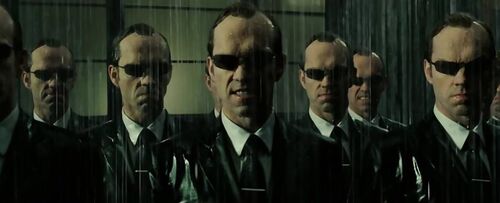 Brief Summary
User can instantly and perfectly replicate themselves and/or targets which can be objects or living beings, numerous times, while usually being able to recombine the clones. Most users have both of these abilities (if subconsciously), copying their clothes/equipment along with their body. Original target will normally be able to maintain control over all copies.
In case of living/sentient clones, mental/physical properties are exactly the same as the original one's, although each copy will have different experiences and may gain independent personalities over time.
Limitations
May have to stay in close proximity to the user.
There may be limit to the number of replicates user can have at a time.
Replicates may have individual thought/personalities that may go cross-purpose to the original.

Replicates that exist for a long time and/or are away from their creator may be especially prone to this.

Infection or damage to a copy may return to the user upon assimilation.
Concentration may be required to maintain copies.
Pain or struggle to the original may cause the copies to become distressed as well.
If there are problems with the copying process, then the duplicates may have physical or mental setbacks.
Users may require a certain amount of energy or stamina to maintain their clones and once they run out, the duplicates may disappear.
If a duplicate dies or becomes injured, the pain may be inflicted on the original.
Dismissing a replicate may be a hard or complicated process, some may stay until they run out of energy or are destroyed.
May be clearly fake, with a pixel sort of look or another obvious difference.
Replicates may be temporary.
Keeping the clones in existence may drain energy from the user.
The characteristics and condition of the clone(s), when generated, may be the same as the original i.e. if the original is in a weakened state, has any injuries, curses,  etc., then the same will be true of the clone(s).
Certain elements/things may be unable to be cloned, may be cloned in an inferior state, unable to be used to the same extent as the original, unable to substitute for the original etc., e.g. legendary/mythical/unique abilities, creatures, items, powers, tools, weapons. 
The clone(s) may depend upon the consciousness, condition, and/or life of the original, i.e. if the original loses consciousness, takes too much damage, dies etc., then the clone(s) will dissipate.  
May be involuntary and/or triggered by certain actions/emotions/etc.
Known Users