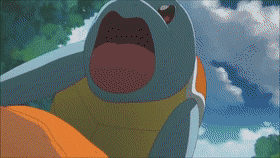 Summary
Enhanced Bite is the power to have an unnaturally strong bite force, either because of sharp teeth, strong jaw-muscles, unusual jaw-structure (mandibles of insects, beak, etc.) or some other reason. Exactly what they can bite depends of the jaw-strength, resilience of their teeth/bite-surface and their shape.
Limitations
Jaws/teeth can break on hard substances.
May have to be careful not bite down on anything potentially harmful or dangerous.
Users
Monkey D.Luffy (One Piece)
Ripjaws (Ben 10)
SCP-359 - The Hawk (SCP Foundation)
Jaw Titan (Attack on Titan)
Xenomorphs (Alien Franchise)
Saitama and Watchdog Man(One-Punch Man)
Pac-Man (Pac-Man)
Pokemon who can learn "Bite", "Super Fang" and "Hyper Fang" (Pokemon)
Charlotte (Puella Magi Madoka Magica)
Vector the Crocodile (Sonic the Hedgehog)
Chain Chomp (Super Mario Bros.)
Etcetera...
Community content is available under
CC-BY-SA
unless otherwise noted.